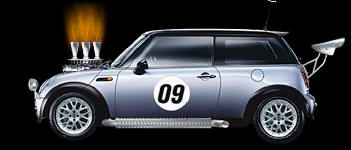 So, if you know Jenn, you know about her obsession with Mini Coopers. She's been known to stalk them all the way from San Jose to Gilroy, actually making the poor drivers nervous!
Her whole existence in the last year has been "all about the Cooper" (said in a bad British accent). She has been selling glass tiles and other Stained Glass related stuff on eBay to get enough money for a down payment. Her goal was July 10th, 2003... her 40th birthday. But... alas... she couldn't save enough money. And she wasn't getting any help from me! She was pretty convinced I didn't want her to have one, and she started weighing Marriage vs the Mini (I really hope she is joking about this part!)
Of course, all along, I've been planning and scheming to get her one for her birthday. I didn't realize how long of a waiting list you have to get on to get one (the S series at least). One dealer has a 14 month waiting list! But I persevered, and managed to locate a dealer in San Francisco (Mini of San Francisco) that had a couple coming in early July... in time for her Birthday! Yeah!
Electric Blue, Black roof, Premium Package w/ sunroof, Harmon Kardon stereo...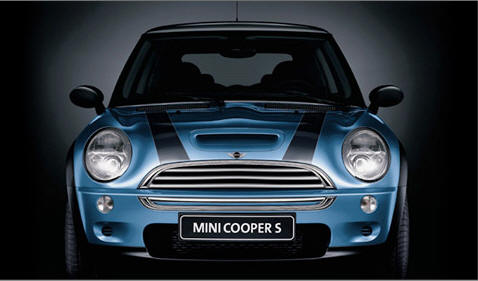 Sign me up! Let me know when I can pick it up!
But reality set in. Apparently the US Customs was suspicious of the load of cute Mini Coopers and decided to inspect them prior to letting them off the ship. So, here I am... high and dry with no Mini and no real good backup plan for J's birthday!
It's July 9th, and what am I going to do??? I have a brainstorm... I'll rent one for a

couple of days... that will give me the shock value still. Hopefully, the real one will arrive in a few days, and it won't be too much of a mini-free period in between. I managed to find a rental place that handles Mini's, Specialty Rentals. They were able to hook me up with this Mini.
OK...so now it's logistics... How the heck am I going to get this rented Mini from SF to Gilroy without Jenn knowing. Fortunately, Ken was available and willing to chauffer me up to SF. I told Jenn I had to go out for a little last minute shopping, and that Ken was going to give me a ride. He'd drop me off at home, so no need for her to wait for me at work. We headed up to SF, and picked the Mini up, and I drove back to Gilroy. Fun car to drive! I had a slight detour to the dealership to pick up a big bow for the top of it (Thanks Carol & Margo!!) I hid the Mini a few blocks away from the house, and Ken dropped me off at home. I even had a few presents wrapped up and ready to go as the final touch on my alibi.
So the plan is...wait until Jenn goes to bed, then sneak the Mini into the backyard (I told you they were small!) Of course, she has to wait until midnight to go to bed, then demands one of her presents, because it's now her birthday. Yawn... am I ever going to get to bed tonight?
She finally goes to sleep, and I sneak off to get the Cooper and park it in the back yard.
After I got everything all setup (about 1:30am), I was rewarding myself with a beer... when I noticed movement in the kitchen! I rush in, and there is Jenn (asleep) looking for birthday cake. I give her a Suzi Q from the freezer, and she tries to go out to the back for a smoke. I try to stop her, but she wasn't having any of it. She opens the back door, and just stares. She rubbed her eyes, put her hand to her mouth... she was pretty much in shock. She actually dropped the Suzi Q without even noticing! If you know Jenn, this is quite unlike her ;->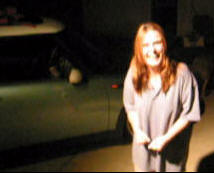 I managed to grab the digital camera, and caught her getting a bit excited. Click the picture for a short video (4MB).

This is the envelope I left on the steering wheel to explain the scoop with the Rental vs the Real Mini. The envelope contained several brochures and miscellaneous stuff that Carol provided me when we found out the real Mini wouldn't arrive in time. As you can see from the pictures, the envelope has been well handled... Jenn's been carrying it everywhere since her birthday ;->
Here are a few more pix:

Yes, that's really going to be her license plate number!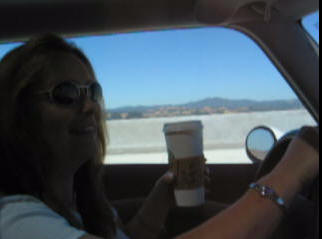 I finally got to sleep around 3:30am or so. I'm pretty tired this morning. Jenn is looking mighty perky tho. Video is 4MB.
So...it's 3pm on Jenn's birthday, and she just drove her rental mini across the street to get an ice cream cake at B&R for the office (It said "Happy Birthday to Me"... you know Jenn!). Any excuse! I think she's changed parking spots at least 3 times. She asked me if I had any errands I needed run!
UPDATE Evening 7/11/2003
Well... it was time to return the Rental Cooper. Jenn managed to do 105 mph on the way to work this morning (if you are any kind of law enforcement official, this is, of course, a joke ;->). And she was "be-bopping" all the way to San Francisco when we headed up there to return it. (SideNote: Our Jeep has WAY better acceleration than the Rental Mini! We'll have to test it against Jenn's new one, which is an S and has a few more gerbils under the hood).
We stopped by the dealership and Jenn got to meet Carol and Margo, the ladies helping us out on the new car. Of course, Jenn started drooling over all the Mini goodies they had in the showroom... two pens and a cool mouse pad later, we got out of there! ;->

We cruised the Rental Mini over to Specialty Rentals, and dropped it off. Immediately, Jenn started moping! First she was upset by the small yard they kept the Mini "penned" in. Then she asked if we couldn't rent it for a few more days. Then she was just kind of quiet and in not nearly as good a mood as she had been in for the last couple of days. I should have expected this.
The light on the other side of the tunnel is.... we were told that Jenn's Mini FINALLY made it off the boat! Should be here by the 14th... maybe sooner! That perked her up a bit... just a bit...
UPDATE Morning 7/14/2003
Got a call from Carol this morning, and the car has arrived in San Francisco... Woo hoo! Unfortunately, one of the prep guys broke his foot, and so the shop is slammed. But it should be ready on Wednesday at 3pm!!!
Please Stay Tuned... I'll update this page as soon as the REAL Cooper shows up!
UPDATE Evening 7/16/2003
Well...Jenn has been counting down the minutes until we pick up her Mini!
MC-9 hours... She even picked her wardrobe today especially for the Mini Cooper pickup!
MC-168 minutes... Is it time yet? Can we leave early?
MC-60 minutes... Two o'clock rolls around, and it's time to take off for San Francisco. Jenn runs back to her desk a couple of times to grab stuff, and I tell her that if she isn't interested, I'll just call and cancel... she didn't like that.
MC-45 minutes... We leave the office a bit late... looks like we have a short hold in Mini Cooper liftoff... We drive up to San Francisco... Jenn ever alert for Mini Coopers on the road.

MC-5 minutes... We park by the dealership, and Jenn has to prep for meeting her Cooper. Brushes her hair, puts on her Mini hat...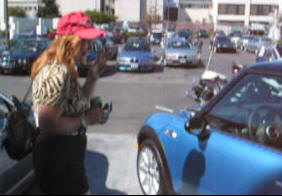 We spot the Cooper as we are walking into the dealership...tucked away in the service bay, it looks awesome! We did a quick look-see, then headed into the dealership. We met with Carol, went thru all the paperwork and then it was time for Jenn to meet her Cooper! Click on the picture to see the video.


Carol gives Jenn the tour of all the Mini's bells and whistles. I'll tell you what... Carol is almost as crazy about these cars as Jenn is!

Jenn reduces the cars value by 25% by driving it off the lot...


Jeep's eye view of Jenn cruising the Mini.
Home at last!